Home

/

6 Ways To Brighten Up Your Bathroom
6 Ways To Brighten Up Your Bathroom
Winter is finally over and as we're kicking into Spring, the sun comes out and it's the perfect time for you to brighten up the second most used room of the house.
Check out these six ways to make yourself a whole lot happier in your bathroom.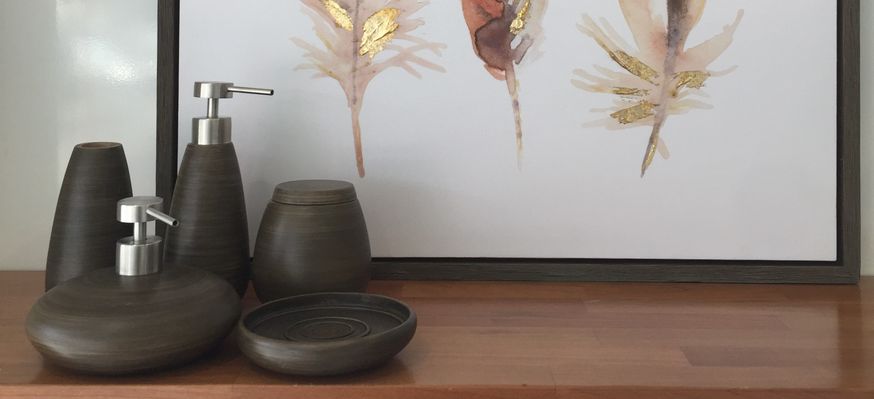 Benchtop Accessories
Choice can really blow your mind here. Short and fat, tall and thin, every colour from green to gold with everything in between. Looking for the perfect benchtop accessory can make you feel like you're in the lolly aisle at the supermarket.
Most benchtop accessories come in matching sets. A tumbler for your toothbrushes, a roll canister for your toilet rolls, a toilet brush for cleaning.
It's not bright pink or yellow, but check out the hand painted Rio Range above for a sophisticated natural look.
Plants
Plants are a great idea to brighten up the bathroom. In a monochrome bathroom with white tiles and chrome fixtures the addition of a plant can change it from just a bathroom, to a bathroom that feels like a home.
Find a plant that loves moist damp environments and you have a winner, or pop it near a window so it gets some sunlight and make those green leaves really pop.
Homespun Succulents offer a gorgeous range of plants with too many options to list here! Check out their range here.

Bluetooth Shower Speaker
Brightening up your bathroom isn't just about what's in it, it's about how you feel when using it. Everybody loves singing in the shower, so take your favourite tunes into the cubicle with you using this water resistant, rechargeable speaker. It has Bluetooth connectivity so your phone can stay safe and dry, and a suction cup that will adhere to any smooth surface.
This is a surefire winner with everyone from your angsty teen to a toddler who just wants to clap along to Taylor Swift.
Find them here.
Prints and Canvases
Sometimes we spend so much time thinking about the kind of bath or tapware we want that we forget about those final touches. If your walls are looking a little bare why not take a look at the huge range of prints and canvases out there. There's a style and a colour for every bathroom.
These three Palm Springs cactus prints are some of our favourites. Spikey, Striped, and Trio.

Hand Towels
A full complement of fancy towels can really blow the budget. The answer is to stick with a single coloured towel and pick a hand towel in vibrant patterns. It livens up the bathroom, and if you make the right pick, the hand towel will compliment your existing towels.
This gorgeous hand towel is just one of many from Melbourne based towel company NINNHO.

Shower Heads
Let's face it; every day you spend at least ten minutes in there. Added up, that's almost 3 days a year spent in the shower, and yet you're spending that sitting under a shower head that makes you feel like you're standing under a leaky gutter.
Like the speakers, your shower head dramatically affects how you feel in your bathroom. A decent shower will make your shower experience so much happier!
Companies like Methven, founded in New Zealand, have gone above and beyond when it comes to showers. They have award winning shower heads for under $100… I'll say that again...
AWARD WINNING SHOWER HEADS for UNDER $100!
If price isn't enough to make you want to change, they're also stunning! Check out the amazing Maku Satinjet Handpiece here.
There's no excuse to be sad about your shower anymore!